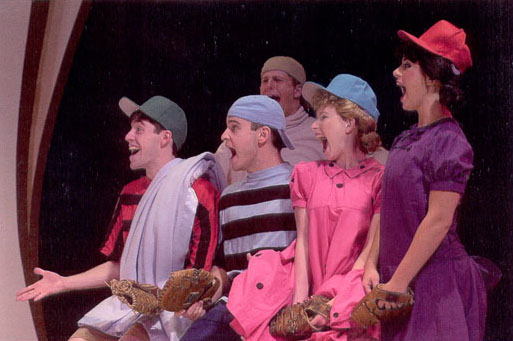 Pictured Right: The cast of "You're A Good Man Charlie Brown", Hot Summer Nights 2001
It was the last place one would have thought to become special in my heart. After all, the War Between the States is still an issue with which my heart cannot find solace. Nevertheless, with an open mind and an uneasy checkbook, we set out in September of 1999 to leave our only son at the University of Cincinnati. Their Musical Theater program is 2nd to none. UC's College/Conservatory of Music consistently produces graduates who "work" in this difficult field. The consensus of the NYC Musical Theater professionals whom we polled was that the CCM Musical Theater Program should be a strong 1st choice. Our son was talented enough to beat the immense odds and be accepted in the program. The hardest notch to reaching his professional goal had been met.
This day was long dreaded. The thought of returning to Virginia Beach without him created a void in my heart. But nature offered a breath of relief in the unlikely form of a hurricane. Our good friend and dog sitter called to warn that a hurricane was aiming square on our home. We hurriedly moved Neal into his Calhoun Hall dorm room, hooked up the electronics, and immediately headed towards the East Coast to face the hurricane. Now I must admit that most people were headed away from the hurricane, rather than into it. We felt the winds at the VDOT Rest Area near Charlottesville. The radio indicated flooding and roads closed in the Tidewater, but still we drove on. Shortly before reaching the area of Ft. Eustis we found I-64 closed. Blindly we left the expressway and followed the beckoning flashlights aiming us on. There was no power save that of batteries. We proceeded on into the eerie dark not knowing where we would find ourselves. Policemen at closed intersections motioned us on. Beyond them, down closed roads, we could spot the flood waters. First we were headed South, then reversed and headed North under the expressway. We continued almost to the point of the Coleman Bridge before being routed back to I-64. Successfully guided through the detour to our isthmus home, we became one with our Tidewater neighbors, marooned by the hurricane and resulting floods.
The path to graduation from CCM was a difficult one, filled with long days which reached into the night, approaching morning. It was a boot camp for Musical Theater. There were some who couldn't take the pressure and didn't make it. The surviving members of the Class of 2003 worked extremely hard towards reaching their professional goals and were one.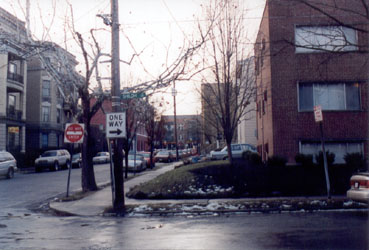 Was the effort worth the end result? Not only did the graduates receive an extraordinary education in their chosen field, the school's prestige proved a tremendous asset in obtaining representative in New York City.
CCM Parents were supportive and rarely missed a performance. The road to Cincinnati became familiar, even welcoming. Once we learned a detour through beautiful rural Ohio farmland, the long drive became immensely more enjoyable. Trips soon became a two day affair with an overnight stop to visit Steve's Mom in West Virginia. That gave us an easy trip into Cincinnati the following day.
Who would have ever thought that a college choice would have yielded a genealogical paradise? Steve's maternal grandmother was from Ohio. Family members had never researched this Ohio line. When I began a quest to discover the family's roots, it immediately came to light that they came from the exact portion of rural Ohio through which we traveled to reach Cincinnati. Immediately I plotted routes to cemeteries, courthouses, and libraries. Ohio became a cherished part of my journey. I visited family members long abandoned to time. Gallipolis, Bidwell, Rio Grande, & Haverhill became familiar and comforting names and places. The downtown Cincinnati/Hamilton County Library turned out to be an unexpected bonanza. Its collection far exceeded most State Libraries.
Once Neal's Junior year arrived and he moved into an apartment of his own, our trips became much easier. We stayed with him, camping out on the sofa and an inflatable mattress. Eason even became a part of our Cincinnati trips. We loved performances at CCM. Clifton Gas Light was an interesting, eclectic neighborhood. And we came to relish Cincinnati eateries such as: Pomodori's Pizza, Skyline Chili, and Longhorn Steak. Before we had time to prepare for it, the four years of college ended. I always thought there would be one more trip to Cincinnati. The hurried move to New York City and an unexpected 2 alarm fire in the Shiloh Street apartment building robbed me of saying goodbye to Cincinnati. I will miss you Cincinnati, Ohio. Who would have ever thought?