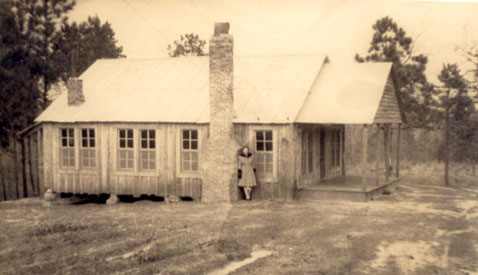 Crenshaw Tenant House
Neshoba Co, MS

Historical Structures cannot be limited to just those that are ancient or grand. The continuity of buildings with familial connections is important to our understanding of who we are and from whence we came. I still mourn the destruction of my great-grandfather Anel Crenshaw's house. When I was young, in the '50s, the abandoned two story structure sat on a hill above old Highway 15, between the Neshoba and Linwood communities in Neshoba County, MS. I would walk to the edge of my grandfather's field, on the bluff of the highway, and ask my Mother about the old house on the opposite hill. She would them strongly prohibit me from crossing the highway. "Besides", she said, "There is nothing in the house except old papers and pictures." That comment is remembered and mourned to this day. The house is gone. At my insistence Mother questioned the current owner of the property, who reported that the contents of the house disappeared during during the '60s. Those long lost pictures and papers may have held the answers to mysteries of our heritage.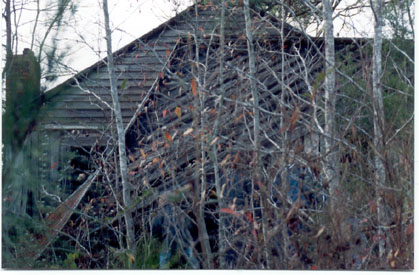 Another family structure threatened by time is my grandfather's tenant house. Pictured above in 1946 and to the right in 1997, the cabin served as home to families that were employed by my grandfather to assist in farming his land. My memories picture it as a living structure, peopled by friends and playmates. The memories of my younger brother are completely different. By the time he was old enough to remember, the house had begun its decline. His children know it as "the bobcat house" and are admonished to remain at a distance. Instead of being peopled by field hands and playmates, the structure is now home to snakes, spiders, and wild animals. The surrounding woods have grown to meet its boundaries. Its yard and drive are no more. In another time and place the tenant house might be a hunting cabin or a playhouse for children. Will its walls ever stand firmly again? If I have a say in its history, the answer is a resounding "Yes"!