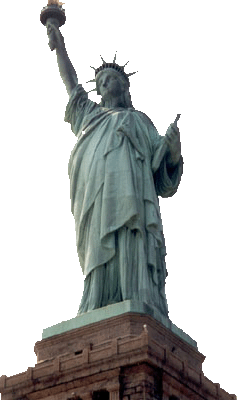 New York City

Somehow it feels like the center of the world, that vibrant island guarded so zealously by Miss Liberty. One's excitement level rises when the city can first be sighted from the Jersey Turnpike. An adrenal rush is the precursor to what must be all mankind's attempt to merge simultaneously into a two lane tube called the Lincoln Tunnel. The thrill of power is felt when one effectively cuts through transit buses and Jersey commuters to enter unscathed and victorious. Driving skills, first learned by this writer in small town Mississippi, have been greatly enhanced by close observation of New York's fleet of taxi drivers. It is my goal in life to mimic those skills.
One enters Manhattan, when the Lincoln Tunnel is chosen as an entry point, in Midtown. That pathway has taken this family through many years of power theater excursions. (For the uninitiated Power Theater involves seeing as many Broadway & Off-Broadway shows as can be seen in the shortest period of time.) That behavior has been greatly modified by the move of our offspring to the city. Midtown now means much more than just the Theater District. Enter life in Hell's Kitchen.
Trips to Midtown now revolve around filling a PT Cruiser to the brim as one shuttles worldly belongings between sublets and our home garage. When the trip involves carrying possessions to the city one learns to use the outside mirrors as belongings are stacked so high in the back of the vehicle that rear vision is not possible. One then unloads from some vantage point on the street and dares anyone to object (behavior pattern learned from above mentioned taxi drivers). The most exciting island in the world then opens its treasures for our inspection.