The History of Neshoba Church and Community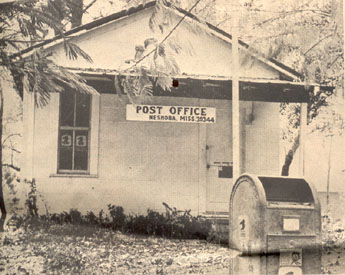 Written 1977 by the late Miss Thelma McBeath (Thelma credited "Neshoba" by Willie Joe Houston, and the Neshoba Church Minutes 1877-1977)
(Pictured right is the old Neshoba Post Office. Postmistresses during this writer's childhood and adolescence were Ethie Crenshaw McNair & Claudine Howle.)
We have never been able to learn just who were the first white settlers in what is now the Neshoba community, but certain it is that by the early 1850's there were more Choctaw Indians than white people in this immediate community. Among some of those Indians were Sam, Amy, and Wilkerson Tonubby. They still lived mostly by hunting and fishing. Also, a hundred years ago we find such familiar names as Walton, Crenshaw, Heflin, Herrington, Gully, and Rhodes as families living within a radius of 3 or 4 miles of this community. It is probable that one Wiley Heflin lived where Mrs. Delia Johnson (the Susie Bassett house) now lives, and that Hamp Herrington lived at the J. P. Harrison place with no other house this side of Santiago and not more than five or six this side of Dixon.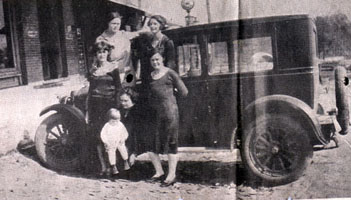 There were no large land or slave owners but rather small independent farmers moving here from Georgia, Tennessee, or the Carolinas. The land was covered with timber which had to be cut, piled and burned before it could be put into cultivation. Each family had to be pretty self sufficient, for there were no churches, schools, mills or doctors in the community. The old A & V Railroad was completed from Meridian to Vicksburg and the farmers began hauling their produce to such markets as Newton, Hickory, or Meridian. These trips were made twice a year by wagon over terrible roads. There was no closer store, school, church or post office than Union. This community was called Waltonville.
At the outbreak of the war between the states, practically every household sent one or two sons or the husband to fight.... Those who returned, came back to terrible poverty and distress, and had to start life over again in 1865.
About the beginning of the Civil War, Wiley Heflin gave two acres of land for a cemetery, with the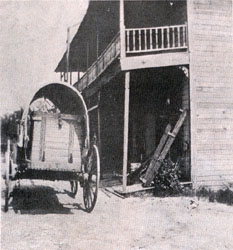 stipulation that his grave was to be as near the center of the plot as possible. His daughter, Dollie Heflin, was the first person to be buried in what is now Neshoba Cemetery; she died during the Civil War.
(Pictured Right: Lewis Store circa early 1900's)
In 1870, a little subscription, or pay school was organized in a one room log house not far from where Thomas Lamar Howle's pond is now located. By 1877, a larger building was constructed of logs on the present site of the Old Neshoba School grounds. This was known as Crenshaw school. It was in this same building that the first Baptist church was organized by twenty-eight people, one hundred years ago....
The first post office established in the community was in the early 1890's, and was known as Centralis. This post office was in the store of John Harrison on what is now the Jessie Pilgrim's place, and mail was delivered three times a week by horseback until the first R.F.D. was established from Union in 1903.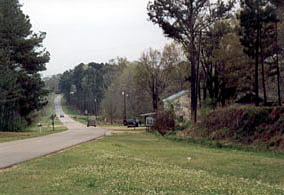 (Pictured left and throughout the remainder of the article is the Neshoba of April 2002.)
By July 1905, steel was laid through what is now Neshoba, for the first railroad in the county. This work was being done during the annual 4th of July picnic so some of the people took the first train ride of their lives; this trip was about a half mile on a work train. Just before the building of the railroad, Charlie Herrington built a little store on the Mid Fulton place. A little later the Crenshaw and McCraw stores were built.
In 1905 the Post Office Department established a post office and gave it the name of Neshoba, with D. P. Jackson as the first postmaster. Mr. Jackson served only a few months and was succeeded by Bartha Gross. Others who served as postmasters were Mrs. Harrison, Mrs. Neva Vance, Miss Nettie Ingram, Mr. Jack Ingram, Mrs. Ethie McNair, and Mrs. Claudine Howle. (Discontinued in 1976)
In 1907 a depot was built just north of where the stores were, at that time, with Mr.. Keeton as the first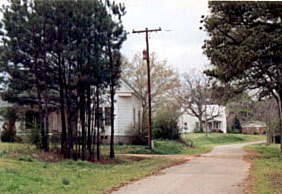 depot agent. Some others were Carl Crews, Hugh McKinney, Mr. Windham, and Mr. George Andrews. This agency was discontinued about 1933. Just after the completion of the depot, a bank and three brick stores were built just west of it. These stores were occupied by McGraw and Son, Viverett and Vance, and W. W. McBeath. Other stores on that same side were O.D. Crenshaw, J. D. Petty and Van Grafton. There was a drug store and doctor's office owned by Dr. Crosby, in addition to the prior mentioned stores. On the south side of the street was a wagon and buggy store, also a large two-story building and department store owned by J. T. Lewis. East of the Lewis store was an up-to-date hardware store owned by J. W. Burroughs, while directly across the street from the McCraw store was another two-story sheet metal building operated as a machine shop by George and Irvin Smith.
In addition, Mr. Mack Howington had built a two story frame building to be used as a hotel on a lot just north of where Mrs. Abb Mott's house now stands. A big sawmill and dry kiln had been built just east of the railroad, and was operated by H. O. Cooper until 1914. Mr.. J. J. Herrington owned a prosperous sawmill and gin business until about 1919.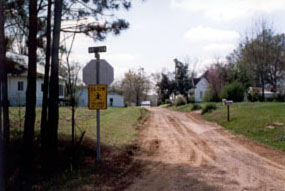 At one time Neshoba had two Physicians, Dr. T. O. Crosby and Dr. I. E. Jarvis. For a while Dr. Jess Johnson and Mr. Hugh McDonald had dental offices here. The first cashier of the bank, R. W. Patrick, was followed by Leon Lewis, who served as a cashier and manager until the bank went out of business in the fall of 1917.
In the fall of 1906, the school was moved to a new two-story building about where the church now stands. Services were held in the school until the new church was completed in 1907. In August 1950 the church decided to buy the Jimmy Smith house for $1,200. It was to be remodeled and used as the first pastor's home....
Neshoba Church and community furnished it's full share of young men who gave their lives fighting for this country. In World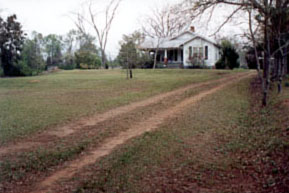 War I there was Glover Pilgrim and Bobby Houston. In World War II, Walter (Mutt) Rhodes and Lionel Brown did not return.
From this community many have gone on to be successful business men and women, attorneys, teachers, and ministers.... One unusual distinction enjoyed perhaps by no other...community in the United States is that three students from the same class later went to Peabody College in Nashville, Tenn. and in succession each became president of the student body of that institution. Those young men were Thomas Walton, Cecil Walton, and Berlin Vance.
Thelma McBeath died May 8, 2003 and is buried in Neshoba Cemetery in the heart of the community that she loved. It is due to her diligence in preserving articles, pictures and information regarding Neshoba's history that this section of the Web Page is possible.