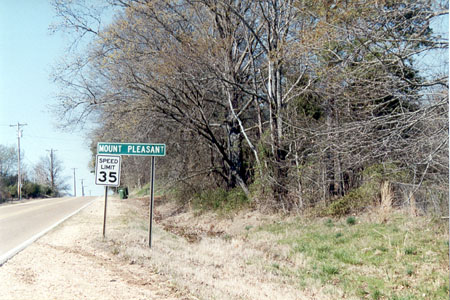 Mt. Pleasant
Marshall Co, MS

What a special feeling it was to drive up to the Mount Pleasant road sign on Highway 311 from Holly Springs, knowing that just over the hill was the community where my Johnson and Hail ancestors had lived for many years. Ggg-grandfather William Johnson and gggg-grandfather William W. Hail been founding members of Mt. Pleasant United Methodist Church. Though the William Johnson family eventually moved to White Co, AR, Susan Hail Johnson returned to Mt. Pleasant after her husband's death, and lived the rest of her life in the community where she was raised. George H. Johnson, younger brother of my gg-grandfather, for many years was the proprietor of Mt. Pleasant's Johnson Hotel. My grandmother's sister, Lillyan Johnson, entered the world with red hair, unusual for her immediate family. Lillyan's mother feared gossip from neighbors until her mother-in-law told her of red-haired Uncle George in Mt. Pleasant, MS. Finally visiting the ancestral home of red-haired Uncle George was a very exciting prospect.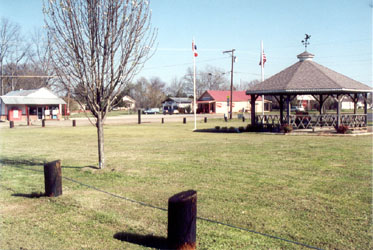 Except for the town square, the 21st century Mt. Pleasant probably bears little resemblance to the 19th century version of that town. An article on Mt. Pleasant in "The South Reporter" edition of August 11, 1988 reported a bustling little town, organized in 1837, with stores lined around a public square. The town was the central focus of the lives of the residents as the article reads, "On Saturdays and during the harvest season, the square was crowded with wagons and people who were in town to purchase supplies. Most of the needs of the households and farms could be filled in Mount Pleasant....The churches and schools provided the social focus of the community."
The town square still exists. In its center is a gazebo. Surrounding the square are homes and a few small businesses, including an antique store and an insurance agency. Mt. Pleasant United Methodist Church greets the arriving traveler to the west of Highway 311 as one enters town. The absolutely gorgeous Mt. Pleasant Cemetery sits atop a hill on the east side of Highway 311 as one approaches the Mount Pleasant sign pictured at the beginning of this page. One can easily miss the cemetery approaching from the south. It sits atop a wooded hill, surrounded by wonderful black wrought iron fencing. It is a very dignified and fitting place to spend eternity.