Pictured left is the John Perry McNeill family. The photo can be dated as prior to December 1918, since Lela was still alive at the time it was taken. Standing, left to right: Norman L, (1902-1969), Queenie Lavada [Edwards] (1893-1961), Lela Ann [Gross] (1887-1918), Clara Virginia [Jones] 1895-1977), Unie Ozzella [Edwards] (1891-1974), Ludie Belle [McClellan] [Clark] (1889-1968), and Mary Ina [Rogers] (1904-1984). Seated, left to right: William Jennings Bryan (1897-1976), John Perry McNeil (1862-1930), Mary Frances "Molly" Cole [McNeil] (1864-1949), and John S.(1900-1971)
Richmond Lewis (1859-1932) and Miriam Leona Viola [Gray] (1866-1944) Edwards lived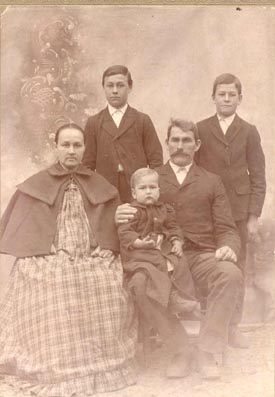 after marrying in 1885 in Lauderdale, Neshoba, and, for the latter part of their lives, Newton counties. Both were born in Lauderdale County and are buried at County Line Cemetery near Union. Richmond was a productive farmer with a reputation for being stern and fair- minded. He served on many juries.
Pictured to the right: Richmond Lewis Edwards & wife Miriam Leona Viola Gray holding child Lester Marshall Edwards. Standing left to right: Richmond Conwell Edwards & Sidney Leonard Edwards.
Richmond's parents were Jesse Jones (1825-1900) and Narcissa [Brooks] (1832-1910) Edwards, both born in Alabama. They married in 1850. They lived the latter part of their lives near Chunky. They had 10 children between 1852 and 1873--Nancy J. [Hooks] (1852-?), Elizabeth E. [Goforth] (1854-1934), George W. (1856-?), Richmond Lewis (1859-1932), Jesse M.(John Marshall) 1861-1951),
May A. [Coates] [Parker] (1864-?), Narcissa (1866-?), Eli W. (1869-?), Lillie Mae [Bates] (1870-1947), and Rilla [Pierce] (1873-?).
Miriam's parents were Hugh R. (1822-?) and Elizabeth J. [Banks] (1833-?) Gray, born in North Carolina and Alabama, respectively. After marrying in 1849, they had 10 children by 1866, most born in Mississippi--Mary E. [Fienegar?] (1850-1874), John Franklin (1851-1923), Thomas C. (1853-1875), Nancy T.E. [Webb] (1856-1896), Ephraim Hugh Henry (1857-1926), Isobella C. (1859-?), William Jessie Hitt (1861-1939), Sally Erian Jane [Burnett] (1863-1928), David W. (1865-1865), and Miriam Leona Viola.[Edwards] (1866-1944).
John Perry McNeill (1862-1930) and Mary Frances "Molly" [Cole] (1864-1949), lived near Union for about 22 years after their marriage in 1886. John Perry was born near Hickory; Molly was born near Philadelphia.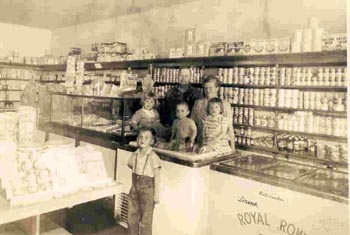 John Perry's parents were Cornelius (1819?-?) and Permilia [Jennings] McNeil, (1827?-?), both born in Mississippi. After marrying about 1839, they finally settled near Hickory. They had 8 children between 1845 and 1866--Columbus (1845-?), James Frank (1849-1926), Columbia Elizabeth [Jones] (1855-?), Mary L. [Jones] (1857-?), Dora? (1859-?), John Perry (1862-1930), Sarah S. (1864-?), and Alan Lewis (1866-1910).
Pictured to the left: Conwell Edwards' store in Arkansas.
Molly's parents were Hiram Bates Cole Cole (1828-1910) and Mary Frances [Hadley] (1837-1865), both born in North Carolina, married in 1850. They had 4 children between 1855 and 1864--John William (1855-1931), Martha Jane (1857-?), James Hampton (1860-?), and Mary Frances (1864-1949). After his first wife's death, in 1865 or 1866 Hiram married Nancy Elizabeth Galloway (1848-1923), born in Georgia. They had eight more children between 1866 and 1885, Lewis Richmond (1866?-1871), India V. [Williamson] (1868-1948), Walter Henry (1872-1955), Lucy Cornelia "Nelie" [Ingraham?] 1874-1970), Isham Matthew (1881-1971), Verna Opal [Richardson] (1885-1972), Clara [Smith?] (?-?), and Julia [Hunter?] (?-?). Hiram's wives are buried on each side of him in Mt. Zion Methodist Church Cemetery, also known as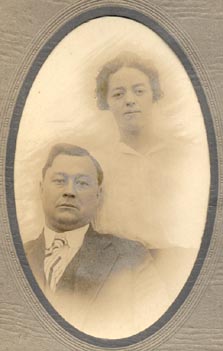 Campgrounds Cemetery, Neshoba County. Hiram served in the Confederate Army during the Civil War.
Richmond Lewis and Miriam Leona Viola [Gray] Edwards raised 5 children born between 1886 and 1903--Richmond Conwell , Sydney Leonard , Lester Marshall , Flossie Clay Leona Viola Gordon] , and Lewis Gray. Another child, Flossie M., was born in 1890 and died in 1895.
Richmond Conwell Edwards (1886-1959) married Queenie Lavada McNeil (1893-1961) in 1912. They had two children --Robert Worrell Mills (foster) and Donald Lewis. A daughter, unnamed, was born and died the same day in 1913. (Richmond Conwell Edwards & his wife, Queenie Lavada McNeil are pictured to the right.) Sydney Leonard Edwards (1887-1978) married Unie Ozella McNeil (1891- 1974)--Queenie's older sister—in 1907. They had 4 children between 1908 and 1916—Richard "Dick" (1908?-1955?), Raymond Leonard "Ray" (1911-1976), Kelly, and Alva Labon (1916?-1989). Lester Marshall Edwards (1897- 1990) married (1) Laura Wilson (1895-1978) in 1918. They had 3 children--Oscar Lane (1919-1937), Miriam Katherine (1922-1986), and Iva Klein; Lester Marshall Edwards married (2) Esther Marita Korbash (? - 1984) in 1981. Flossie Clay Leona Viola Edwards (1900- 1965) married Marcus Benton Gordon (1900-1965) in1922. They had 3 children between 1923 and 1931--Benton Rex Sr. (1923-1993), Benton Clay (1925-1986), and Marcus Darnell. Lewis Gray Edwards (1903-1978) married Nettie Blalock (1904-1994) in 1922. They had 5 children between 1923 and 1934--Sally Grace [Thornton] [Hanson] (1923-1983), Inell "Nell" [Cleveland], Bonnie [Taylor], Jack, and Mary [Harbour].
John Perry and Mary Frances "Molly" [Cole] McNeil raised 9 children, born between 1887 and 1904--Lela Ann [Gross] (1887-1918), Ludie Belle [McClellan] [Clark] (1889-1968), Unie Ozella [Edwards] (1891-1974), Queenie Lavada [Edwards] (1893-1961), Clara Virginia [Jones]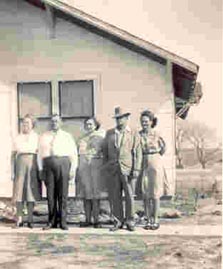 (1895-1977), William Jennings Bryan (1897-1976), John S. (1900-1971), Norman L. (1902-1969), and Mary Ina [Rogers] (1904-1984). Since the children, except Queenie, did not spend much of their married life in Newton County, only Queenie's offspring will be listed.
Pictured left to right: Queenie (McNeill) & Conwell Edwards, Flossie (Edwards) Gordon, Gray & Nettie (Blalock) Edwards.
While John Perry was courting Molly (two years), once a month he rode 30 miles on horseback to see her. When Molly was 7 months old, her mother died. When Molly was 16, she received her share of her mother's estate--40 acres of land near Union. She bought a horse, a side saddle, and a trunk, so she probably also received a little money. After their marriage, John Perry and Molly built a large one room log cabin on the 40 acres. Later they bought adjoining land and built a larger house. John Perry was a good farmer. When told that it was unnecessary to keep clean fence-rows in his back fields because nobody saw them, he replied, "Yes, but I see them."
Pictured below: Richmond Lewis Edwards & wife Miriam Gray with child Gray standing in front. Standing back left to right: Lester, Conwell, & Flossie.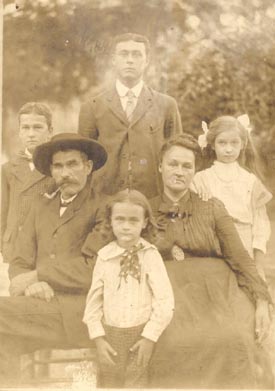 The following account, by Lester Edwards (1897-1990) gives some insight into the life of a farm boy growing up in the early part of this century.
"My father didn't owe anybody money. He was considered one of the best and most productive farmers in our community or the surrounding communities. My life was a working life. We had mules, cows, hogs, chickens; oh yes, we had the devilish guineas. My father was not a cattleman but he raised lots of hogs for the market. He raised lots of corn and some cotton. By the time I was 10 years old--my older brothers had left home--my job on Saturday, regardless of the weather, was to drive 4 mules hitched to a wagon 10 miles to the town of Union over roads that were often very muddy. I would have a load of corn, or peanuts, or sugar cane syrup. Buyers were always in Union on Saturdays to meet the farmers that brought in their produce.
"I engaged in the usual activities of the neighborhood. We had the old country dances, ice cream suppers, and spelling bees. Usually, every week, especially through the winter months, there was a house to go to for some type of entertainment.
"Back in those days, 80 years ago, nearly everyone carried a gun. My father always put his pistol on when he went to town. Trouble was usually settled with guns. My father was fortunate, he never had to do that."