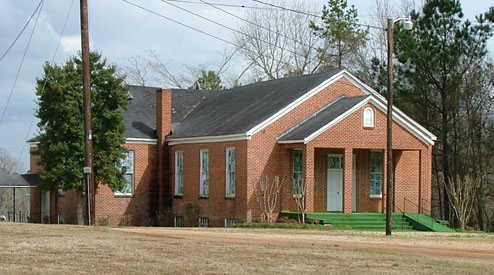 Linwood Church
Neshoba County, MS

Directions: From Hwy 15 at the Hwy 492 intersection (Spanky's) in Union. Proceed north 3.3 miles. There will be a large sign that reads Camp Dixon followed by a smaller one that reads Neshoba. Turn left on Road 325. Drive through the Neshoba Community until you reach the Linwood Community. The cemetery is on the right hand side of the road behind Linwood Baptist Church. It is not easy to spot from the road. There will be a small store on the opposite side of the road.
Directions from I-20 to the Hwy 15 & Hwy 492 (Spanky's) intersection in Union: Coming from the East (Meridian): Exit at Hickory. Turn right on Hwy 503. Proceed 7.6 miles to Hwy 15. Turn right. Proceed 9.6 miles to the above intersection. Coming from the West (Jackson): Exit at Newton on Hwy 15. Proceed North. The intersection will be in about 16 miles.
Linwood Cemetery sits behind Linwood Baptist Church. The community is north of the Neshoba Community on the road that was once the main highway to Philadelphia, before the new Highway 15 bypass was built. Many of the families buried in Linwood Cemetery are closely related to those families buried at Neshoba Cemetery. Sitting directly across the road from the church and cemetery is a store, which has been the focal point of the Linwood Community for as long as I have been living. Linwood School, which stood near the church is now only a memory.