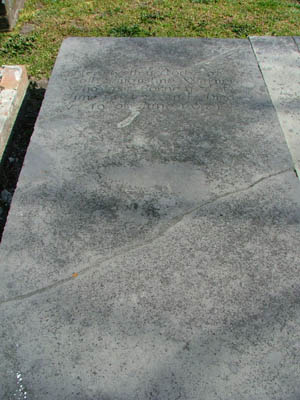 Here Lyethe ye body of
Coll. Augustine Warner
who was Borne ye 3rd of June 1642
and Died ye 19th of June 1681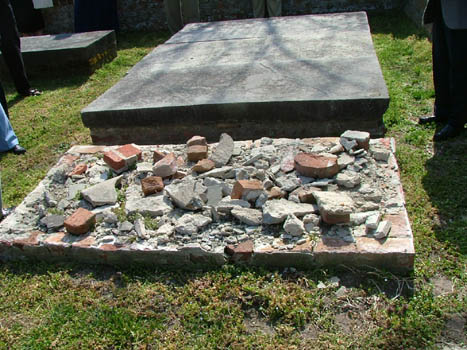 Mildred Reade Warner
At the time of my visit to the Augustine Warner family cemetery the tablet of Mildred Reade, wife of Augustine Warner and daughter of George Reade and Elizabeth Martiau, was being restored by the Association for the Preservation of Virginia Antiquities.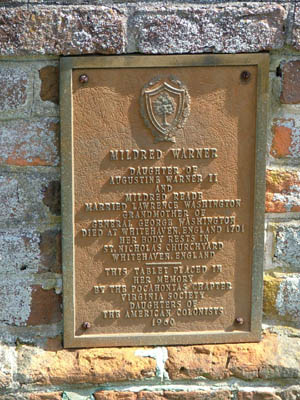 Mildred Warner
Daughter of Augustine Warner II and Mildred Reade
Married Lawrence Washington.
Grandmother of General George Washington.
Died at Whitehaven, England 1701.
Her body rests in St. Nicholas churchyard, Whitehaven England.
This tablet placed in her memory by the Pocahontas Chapter Daughters of the American Colonists
1960.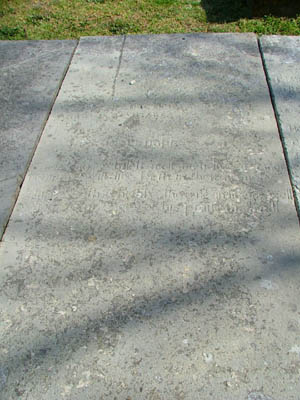 Augustine Warner
1611 - 1674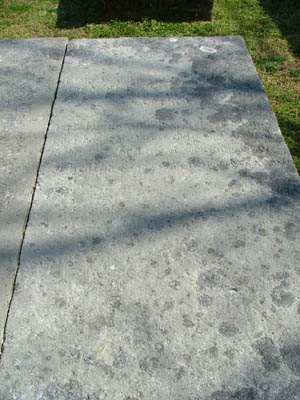 Mary Warner
Wife of Augustine Warner
Born May 15, 1614
Died August 11, 1662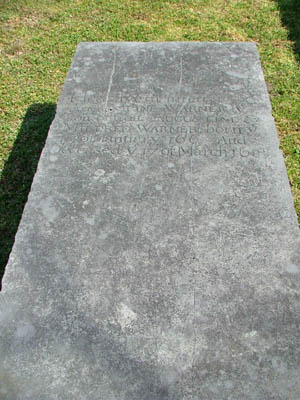 Here Lyeth Interred
Augustine Warner
ye son of Coll. Augustine & Mildred Warner
born ye 17 of January 1666/7
and deceased ye 17th of March 1686/7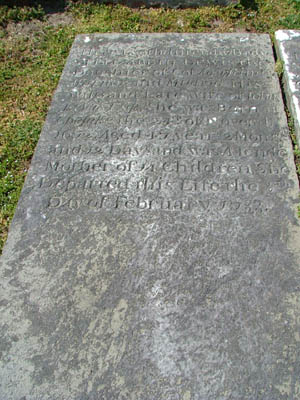 Here lyeth Interred ye body of
Elizabeth Lewis
the daughter of Col. Augustine Warner
and Mildred his Wife
and late Wife of John Lewis Esq.
She was born at Chesake the 24th of November 1672
Aged 47 years 2 months and 12 days
and was a Tender Mother of 14 children.
She departed this life
the 6th Day of February 1719/1720.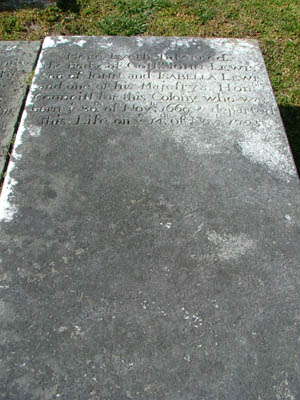 Here Lyeth Interred the body of
Coll. John Lewis
Son of John and Isabella Lewis
and one of his Magesty's Hon. Council for this Colony
who was born y 30th of Nov. 1669
and departed this life on y 14th of Nov. 1725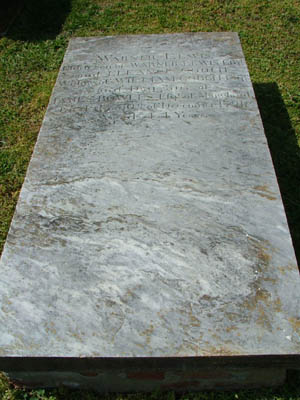 Warner Lewis
Eldest son of Warner Lewis Esq.
And Eleanor Gooch, widow of William Gooch Esq.
and daughter of James Bowles Esq. of Maryland
Died the 30th of December 1791
Aged 44 Years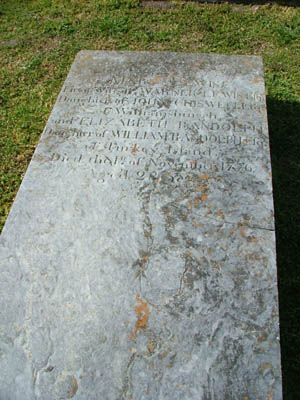 Mary Lewis
First Wife of Warner Lewis Esq.
Daughter of John Chiswell Esq. of Williamsburgh
and Elizabeth Randolph
Daughter of William Randolph of Turkey Island
Died the 1st of November 1776
Aged 28 Years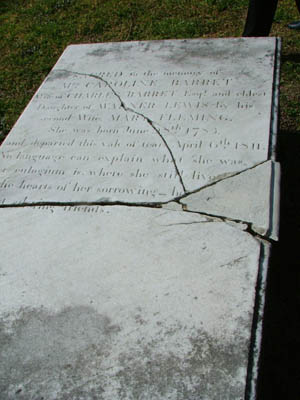 Sacred to the Memory of
Mrs. Caroline Barret
Wife of Charles Barret
and Eldest Daughter of Warner Lewis by his
Second Wife Mary Fleming.
She was born January 28th 1783
and departed the vale of tears April 6th 1811.
No language can explain what she was.
Her eulogium is where she still lives in the hearts of her
sorrowing - (broken) almost adoring friends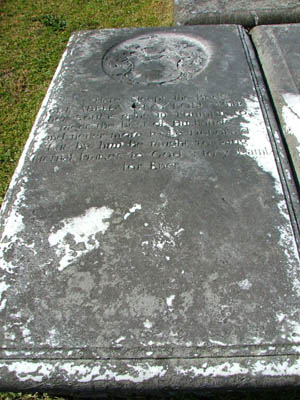 Here Sleeps the Body of
Isabella Clayton
While her Soul is gone in triumph
to meet the best of husbands
and never more to be devorsed here by him
be taught to sing eternal praise
to God and ye lamb forever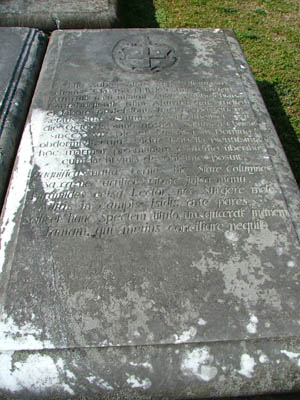 Thomas Clayton
M. B. Johannis Clayton
MDCCXXXIX