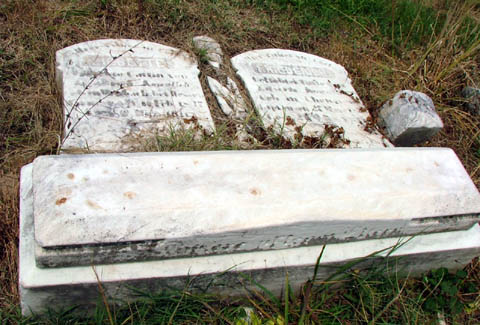 Fredrich Kowalick
Geb. 9 Aug 1825
Gest. 24 Mar 1900
Lissette Kowalick
Geb. 21 Feb 1837
Gest. 2 Dec 1911
The next order of business was to find daughter Lissette, known to be buried in Lot 89 with her husband Fredrich Kowalick. A surprise was the fact that the lot was shared with a Westerman family, whose names were not included in the internment transcription book. The Westerman family sharing Fredrich Kowalick's Lot 89 must be that of daughter Annie B. Kowalick, who married John L. Westerman. The adjoining tombstones of Fredrich & Lissette Kowalick have been pushed over by vandals and lie flat with the engraved side facing upwards.

1870 Baltimore Co, MD Census, 7th Ward, p.6, #77-87, Currier
1880 Baltimore Co, MD Census, 2nd Ward, 3rd Precinct, Supv Dist 1, ED 21, p. 368, #20-21, Confectioner
1910 Baltimore Co, MD Census, Ward 6, p 10B, 10 Irvine Place, Enumerated in the household of her daughter Annie B. Westerman
Evangelische Kirche Rohrbach
Seite 634 - Jahr 1837 Translation: Page 634 - year 1837: On the 21 Feb 1837 at 1 AM at night was born according to information given by Georg REISINGER, a German resident in the affiliate Wembach and his wife Marianne nee BEILSTEIN and the same was christened on the 5 Mar 1837 and received the given names Elisabetha Margaretha.Witnesses are: The single Margaretha DIEHL of Lichtenburg, a maternal step sister. Elisabetha SCHALLER, daughter of the resident Johann Adam SCHALLER of Niederodau.(not yet confirmed –about 14 years or younger) Proxy for the young Margaretha DIEL stood her mother Marie SCHALLER nee REISINGER in her stead. They sign the Protocol together with the father and me, the minister.
Elisabetha Margaretha Reisinger was born 21 February 1837 in the village of Wembach, Grand Duchy of Hesse-Darmstadt. She was the daughter of Johann Georg Reisinger and his 2nd wife, Maria Barbara Beilstein. She immigrated to America with her brother Johannes George Reisinger, sailing from the Port of Bremen on the ship Johannes and arriving at the Port of Baltimore on 7 June 1853. She married Fredrich Kowalick, probably in Baltimore, MD.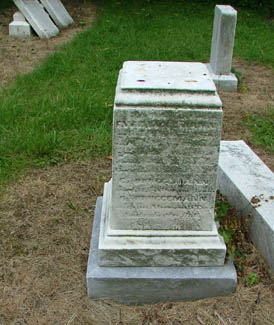 Bruggeman Lot 81
Try as hard as I might, it was impossible to read the inscriptions that were on the large marker in the Bruggeman Lot. There are inscriptions on two sides, which appear to be for different family groupings. The side pictured to the left includes the names of Bruggeman individuals. The side pictured below could be for the Vogel family. The lot owner was Frank Bruggeman, who is buried in the plot along with his wife Charlotte, son August, Julia A. Bruggeman (probably the wife of August), daughter Wilhelmina and her husband Emil Vogel, and the stillborn child of Carl Ruppel and his wife Selma Emelia Vogel.
The tombstone appears to include the word Vogel. The person was born Sept.1812, which doesn't match any of the internment records for this plot. The death date appears to be 1897.
Frank Bruggeman
1860 Baltimore Co, MD Census, 20th Ward, Baltimore City, p. 343, #89-95, Carpenter
Emil Vogel
1870 Baltimore Co, MD Census, 13th Ward, p. 316, City of Baltimore, #298-331, Portrait Painter
1880 - Enumerated in the Baltimore Co, MD household of Carl (aka Charles) Ruppel
Carl "Charles" Ruppel
1860 Baltimore Co, MD Census, Baltimore, Ward 13, p. 449, Segar Maker, Living in household of Justice Nass, #2718-3485
1870 Baltimore Co, MD Census, Baltimore, 18th Ward, p. 1B, #12-12, Cigar Maker
1880 Baltimore Co, MD Census, 19th Ward, Precinct 1, p 17C, Collector of Accounts
1900 Baltimore Co, MD Census, 10th Precinct, 19th Ward, ED 250, p. 142, #98-98, 2107 Baltimore Block D