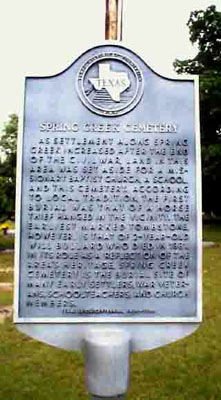 Spring Creek Cemetery
Bosque Co, TX

Photos & narrative courtesy of Roy Malone
I have been a son-in-law in the Anderson family for going on fifty-five years. That is when Wyleta Anderson and I married. We were both born in Bosque County, Texas and our ancestors were some of the first settlers. Wyleta is the daughter of Roy Anderson who was the son of James Ernest Anderson who was the son of George Washington Anderson who was the son of James Madison Anderson and Karen Hodges (Anderson). All; except James Madison Anderson are at rest in the Spring Creek Cemetery.
The first Saturday in May is the traditional working day at the cemetery. This year was no exception and many people came both young and old. Those of us who had to drive up to fifty or more miles arrived a little later. But by that time most of the work was done. There was little left to do with the exception of leaning on a hoe handle and swapping yarns. We did do a
little weed chopping in our family plots. I remember my father-in-law before his death would go early so he could save those of us in his family a "good spot" for lunch.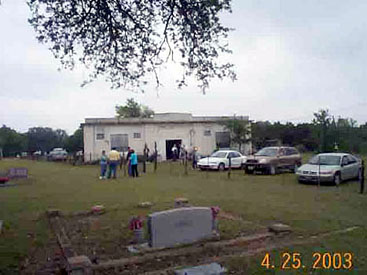 About 11:30 we heard a happy sound when a whistle was blown indicating that lunch was ready and for all of us to "Come On". It was as good as always with fried chicken, barbecued brisket, green beans, red beans, baked beans, potato salad, fruit salad, pies, cakes, cookies, ice tea and many other dishes and items too numerous to mention. It was good!
Lunch was served in the old concrete constructed school house which was built in 1915. It has a flat roof and until recent years it was in a state of disrepair. But with the foundation of a Cemetery Association new windows and doors have been installed in the old open openings. Electricity was installed and now it is pretty good for very little money spent.
After lunch, a business meeting was held and finances were discussed. The association has some CDs and the financial health is good. The officers were re-elected and the oldest and the youngest attendees were honored as well as those attending from the farthest distance away and a collection hat was passed. Most of the recent years my mother-in-law won the oldest attendee acknowledgement; some of her past students; in that old school building, are the officers of the association now. Sadly she; Vera Hanna Anderson, passed away in 2000.
One of the many persons attending was U. S. representative Joe Barton. Spring Creek was the family settlement of the Bartons and many of those now deceased rest in that cemetery. Joe attends most of the meetings. Many persons of all the families now are old faces in the past and they are also at rest there.
Roy Malone, 22 May 2003 ... Granbury, Texas