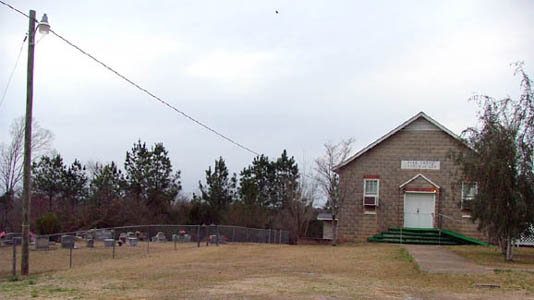 Pine Grove Church of God Cemetery
Neshoba Co, MS

Directions: From Hwy 15 at the Hwy 492 intersection (Spanky's) in Union: Proceed north 3.3 miles. There will be a large sign that says Camp Dixon followed by a smaller one that reads Neshoba. Turn left on Road 325. Drive 0.9 miles. There will be another sign that reads Camp Dixon. Turn left on Road 339 at Neshoba Cemetery. Go 6.9 miles. Turn left on Road 127. Go 0.5 miles. The church and cemetery is on the right. Camp Dixon is directly across the road on the left.
Directions from I-20 to the Hwy 15 & Hwy 492 (Spanky's) intersection in Union: Coming from the East (Meridian): Exit at Hickory. Turn right on Hwy 503. Proceed 7.6 miles to Hwy 15. Turn right. Proceed 9.6 miles to the above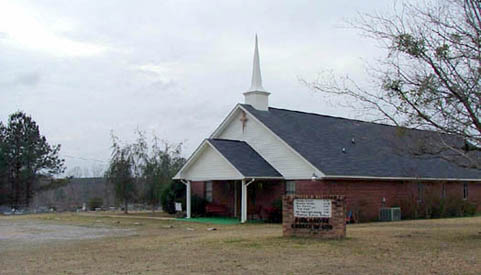 intersection.
Coming from the west on I-20 (Jackson): Exit at the Forest Exit. Take Hwy 21 N. Drive through Sebastopol. Continue until you reach Road 339, which will be in the Dixon Community. Turn right. Drive 0.7 miles. Turn right on Road 127. Go 0.5 miles. The church and cemetery are on the right.
Pictured Right: The new church building. The old building, which is pictured at the top of the page, is not visible in this shot. As you face the new church it sits to the left and back, out of sight of this camera's shot.
Camp Dixon, pictured below, is the Church of God State Camp. The well kept facility sits directly across the road from Pine Grove Church of God.