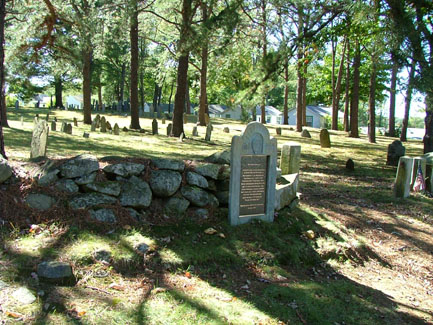 Old Indian Cemetery
West Brookfield, Worcester Co, MA

It is an ancient place. When one steps onto the soil of Old Indian Cemetery a sudden feeling of reverence compels one to whisper, in order to preserve the peace of its inhabitants. At a glance it is certain that there have not been burials in Old Indian Cemetery for centuries. Final resting place of 16 veterans of the French and Indian Wars and 11 Revolutionary soldiers, the cemetery speaks to an earlier time when our country was an infant, and even before - to the time when our forefathers first began to move west from their coastal landing sites. Walking the cemetery brings a curiosity about the individuals who lie below the stately pines in what must be many unmarked graves. Time has worn its unforgiving hand into the tombstones that remain. Many are no longer readable. Some have been stripped of the layer which originally held its inhabitant's inscription.
It was almost a given that the cemetery would look down upon a beautiful body of water. Closing one's eyes to the 21st century and allowing the past to slip in, one can picture a canoe gliding quietly along the edge of the water - attempting to hide its riders from settlers preparing for Indian attack. The Haymakers' Monument, commemorating the last Indian attack on the town, sits at the back of the cemetery to remind the current age of events that shaped the future of its inhabitants.
It was hard to leave the cemetery. Although a long drive lay ahead, the desire to linger was almost insurmountable. A feeling of unity with Old Indian Cemetery's inhabitants made the newly discovered burial ground feel like a cherished old friend.