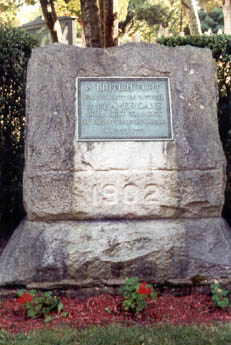 In the midst of picturesque Sag Harbor, NY, lies a cemetery that holds the final resting place for many men who shaped the history of our country. Directly adjacent is the historic Old Whalers Church. The Sag Harbor Chamber of Commerce does a wonderful job of detailing the history of the Old Burying Ground and its importance in the Battle of Sag Harbor on their internet site:
Sag Harbor Chamber of Commerce: Old Burying Ground
Erected on the grounds in 1902 is a marker commemorating the role that the cemetery played in the Battle of Sag Harbor: A British Ford near this spot was captured by the AMERICANS under Lieut Col Meigs at the Battle of Sag Harbor May 23, 1777.
As one strolls through the cemetery, you can easily spot the multitude of graves of American patriots, each marked with an American flag. The patriotism of the moment lends one the ability to step back in time, and imagine Sag Harbor as it existed during the American Revolution. Please join me in a visit to a sampling of the gravesites.