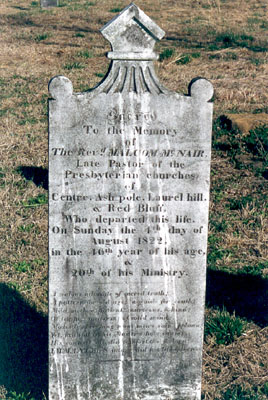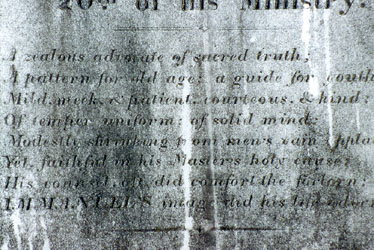 August 24, 1776 - August 4, 1822
Sacred to the memory of the Revd. Malcom McNair, Late Pastor of the Presbyterian churches of Centre, Ashpole, Laurel Hill & Red Bluff, who departed this life on Sunday the 4th day of August 1822, in the 46th year of his age & 20th of his Ministry. A zealous advocate of sacred truth; a pattern for old age; a guide for youth; Mild, meek & patient, courteous & kind; of temper uniform; of solid mind; Modestly shrinking from men's vain applause; Yet, faithful in his Master's holy cause; His cousel oft did comfort the forlorn:T. M.M.A.N. UEL'S image did his life adorn.
Rev. Malcom McNair married Jennette Little. He was born in Maxton, Robeson Co, NC, the son of John McNair and his wife Catherine Buie. She is buried in Centre Presbyterian Church Cemetery, Robeson Co, NC.
1810 Robeson Co, NC Census, p. 218
1820 Robeson Co, NC Census, p. 294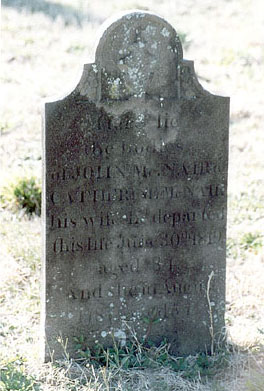 John McNair
1735 - June 30, 1819
Catherine Buie McFarland McNair
d August 1787
From a letter by Anna Belle McNair to her nieces & nephews:
"Copied from the Original"
A Short History of John McNair, written by himself and transcribed by his Granddaughter.
I am a native of Scotland, was born in the Year of Our Lord 1735, in _______ a small village of that name in the Parish of Kilkenny, in the shire of Argyll, North Britain. I was the youngest son of Neill McNair. My grandfather's name was Edward McNair, my mother's name was Sallie McGill. I was married to Jennet Smylie daughter of John Smylie, December 1763. My eldest son Roderick was born October 1764. My eldest daughter Betsy was born January 1766, and my third child Neill was born 1768. My first wife died Sept 1769 and my third child Neill died in December of the same year. I came to North Carolina, in America in the year 1770 and bought a plantation at Hithcock, in Anson Co - then was - and lived there some time. I married my second wife Catherine Buie daughter of Donald Buie from Dura, Scotland in 1772. My eldest daughter Sallie by my second wife was born 1773. My first son by my second wife (Malcom) was born August 1776, my second wife died August 1787. This ends the History by myself but the History of his ancestors is continued by his granddaughter.
(Note: Female Descendants of John McNair qualify for membership in the Daughters of the American Revolution based on his Patriotic Service.)