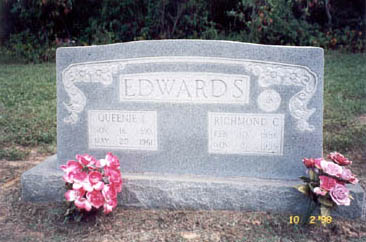 Feb. 10, 1886 - Nov. 27, 1959
Queenie L. McNeill Edwards
Nov. 16, 1893 - May 20, 1961
Conwell Edwards was the son of Richmond Lewis Edwards and his wife Miriam Leona Gray. Queenie Lavada McNeill was the daughter of John Perry McNeill and his wife Mary Frances Cole. Conwell & Queenie married August 18, 1912 in Wattensaw, Prairie Co, AR.
1930 Newton Co, MS Census, Beat 2, ED 51-7 Sheet 2a, Supv Dist 9, #27-29, Salesman - Grocery Store
Edwards, Richmond Conwell, 32, Keo, b 10 Feb 1886, Clerk for C. M. Flynn of Keo, Nearest Relative Queenie Edwards, Medium Height, Stout, Brown Eyes, Bln Hair (World War I Draft Application)

BEEBE - Richmond C. Edwards, 73, of Des Arc died in Searcy hospital yesterday. He was a retired farmer, a Methodist and a Mason. Survivors include his widow, Mrs. Queenie McNeill Edwards, two sons , Donald L. Edwards of Virginia Beach, VA, and Robert Mills of Union, Miss. Three brothers, S. L. Edwards of Des Arc, Lester Edwards of Springfield, Ore., and Gray Edwards of Crossett; a sister Mrs. Flossie Gordon of Union and three grandchildren. Funeral will be conducted at 11 a.m. tomorrow in the Hebron Methodist Church. Burial will be in Hebron Cemetery by W. L. Westbrook Funeral Home.