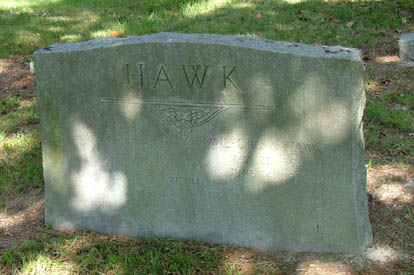 Wilford K. Hawk
May 22, 1868 - June 14, 1935
Wilford K. Hawk was an Ohio native whose father was also born in Ohio. Census records differ on the birth state of his Mother, which is listed as Ohio and West Virginia on various enumerations. Wilford Hawk was a carpenter by trade, being employed alternately as a ship carpenter and a house carpenter. In later years he went into the poultry farming business. His wife Mary J (also listed as Queenie) was born January 1872 in Pennsylvania and most likely was a Dice. In 1900 the John A. Dice family (also born PA) was enumerated in Wilford Hawk's household with his relationship listed as Brother. In 1920 the Hawk family had both a boarder and a servant. The young William C. Hawk, who died at age 18, may have been their only child. Wilford Hawk's wife's birth and death information is not included on his tombstone, even though a space was reserved for her. This could be because she remarried. It also could be due to the fact that she died with no living children and the task of engraving the stone was just left undone.
1900 Norfolk Co, VA Census, Tanners Creek District, House Carpenter, Supv Dist 2, ED 39, Sheet 42A, p 215 #787-880
1920 Norfolk Co, VA Census, Washington District, ED 228, Supv Dist 2, Sheet 5B, Ship Carpenter
1930 Princess Anne Co, VA Census, Lynnhaven District, Swamp Road, Poultry Farmer, p. 3B, Supv Dist 14, ED 77-6, Sheet 3B.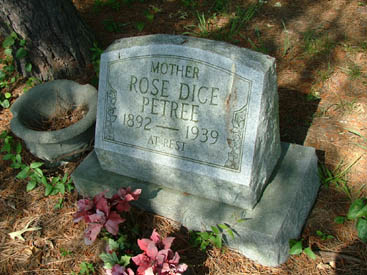 Mother
Rose Dice Petree
1892 - 1939
At Rest
Rosa C. Dice was a child of John A. Dice and his wife Mary E. She was born June 1892 in Virginia. The family was enumerated on the 1900 Norfolk Co, VA Census of Wilford K. Hawk. Rose was most probably his niece, the daughter of his wife's brother. I would suspect that her parents are probably also buried in this cemetery. Can anyone offer more information concerning this family and the individuals whose tombstone markers are no longer intact?