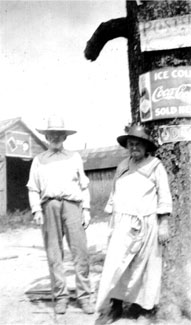 Willie Ann Boler Harrington Knight
Dec. 10 1856 - Nov. 13 1923
Henry C. Knight
Co. D Jeff Davis Legion C.S.A.
(Note: Henry C. Knight's 1900 Kemper Co, MS census enumeration lists his birth as July 1841 in Alabama. Willie Ann Boler's birth was during the family's Scott Co, MS sojourn. Pictured to the left are Willie Ann Boler and her 2nd husband, Henry C. Knight.)
Willie Ann had 3 children by her first husband William Thomas Harrington: Minnie, Nannie Manonia, & Mary Elizabeth "Donie". Her only child with Henry C. Knight was Eva P, who married Samuel Calvin Hatcher, and died 20 April 2000 in Riley Hospital, Meridian, MS.
1900 Kemper Co, MS Census, Beat 2, Oak Grove, Vol 25, No. 4, Sheet 12, Line 91
1910 Kemper Co, MS Census, Beat 2, ED 27, Sheet 23B, 68-69
1920 Kemper Co, MS Census, Beat 2, Township 9, Oak Grove, #178-178