Simon Elliott
Died November 16, 1916
Age 60 Years
1900 Princess Anne Co, VA Census, p 2, Kempsville District, Supv Dist 2 ED 49 Sheet 2A, 39-45, Farm Laborer
1910 Princess Anne Co, VA Census, p. 13, Supv Dist 2, ED 86, Sheet 13B, County Road, #233-237, General Farming
The 1900 Princess Anne Co, VA Census brings Simon Elliott and his family to life. He was an African American who listed his occupation as a Farm Laborer. He was born in April 1860 in North Carolina, as were both his parents. His wife had born 10 children, six of whom were living at the time. One did not have to look hard to find the identity of his children. Still living in Simon Elliott's household in 1900 were his children (aged 9 - 18): Mary, William, James H., Alice, and Charles. Living next door with his wife Martha and niece Gertie Whitehurst was son John W., aged 24. The 1910 Princess Anne Co, VA Census Enumeration indicates that Simon Elliott's occupation was General Farming and that he lived on County Road. Four of his living children were still living in his household. Son William had married and was raising his family in a nearby household.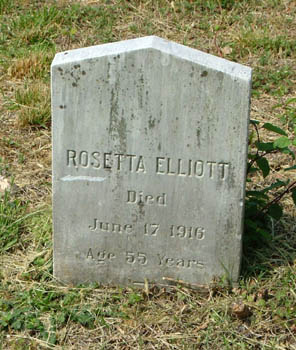 Rosetta Elliott
Died
June 17, 1916
Age 55 Years
Rosetta Elliott was born May 1867 in Virginia. Both her parents were born in North Carolina. In 1900 she had born 10 children, 6 of whom were living. On the 1910 census enumeration she is shown as having been married 35 years and born 12 children, 6 of whom were still living.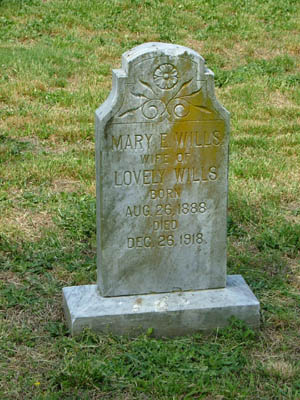 Mary E. Wills
Wife of
Lovely Wills
Born Aug. 26, 1888
Died Dec. 26, 1918
Lovely Wills has been located on the 1930 Princess Anne Co, VA Census living in the household adjacent to John W. Elliott. His wife at the time was Alice, who most probably was the daughter of Simon Elliott. Simon Elliott's 1900 Census Enumeration indicated that his daughter Alice was born February 1890, which is consistent with Alice Wills' age on the 1930 census. The 1930 enumeration indicated that Lovely Wills was 41 years old, born in North Carolina, and married first at age 21. That marriage would have been to the deceased Mary E. and would have occurred about 1910. His wife Alice was 40 years old and married first at age 29. This would have been consistent with a marriage the year following Mary E's death. Lovely & Alice had children named Virginia, Joseph, and Mabel living in their 1930 household, along with 21 year of Estelle Elliott. Lovely Wills, African American, Year: 1930; Census Place: Kempsville, Princess Anne, Virginia; Page: 17B; Enumeration District: 3.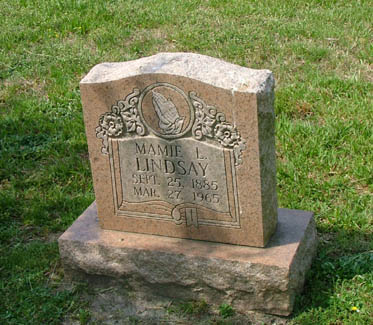 Mamie L. Lindsay
September 25, 1885
March 27, 1965
Mamie was my great-grandmother. She was a small woman who had an iron will. She and her mother owned the property which became the Kimnach Ford dealership. My grandfather just died recently. He was 87. He was a deacon at Ebenezer Baptist Church. Antoinette Lindsay