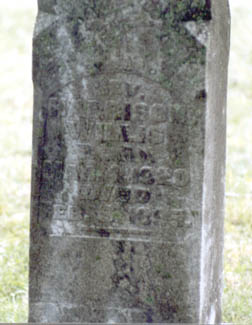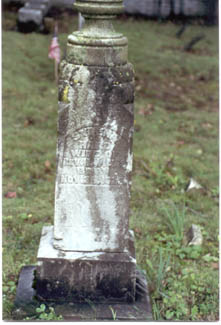 Rev. Harrison Willis
Mar 4 1820 - Feb 6 1895
Syrenia Hard
Wife of Rev. H. Willis
Born Nov 26 1823
Harrison Willis married Syrenia Hard January 17, 1841 in Sciota Co, OH. She was the daughter of Jonathon Benedict Hard and his wife Sophronia White.
1850 Scioto Co, OH Census, Green Township, p. 291, #232
1860 Jackson Co, OH Census, Bloomfield Township, #585-562
1870 Gallia Co, OH Census, Morgan Township, p. 457 #258
1880 Gallia Co, OH Census, Morgan Township, p. 438, #188-188
Early Gallia County Court Records 1846 - 1899, (Records were abstracted from the Common Pleas and Probate Courts)
Minister License: Harrison Willis, Denomination - Christian, 5 September 1862, Book CJ1, p. 397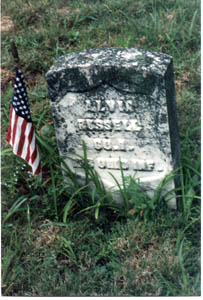 Alvin Russell
Co I 173rd Ohio Infantry
Alvin Russell and his wife were the parents of Malinda Russell, who married Rev. Harrison Willis' son Thomas. Alvin's grave is a small Union marker just down the hill and to the right of Rev. Harrison Willis' more elaborate one. This author found no marker for his wife, Harriet Spires in the cemetery.
Alvin Russell was the son of Isaac Russell and his wife Rhoda Hoppas. This writer is greatly in need of documentation proving this relationship. He married Harriet Spires December 31, 1846 in Gallia Co, OH. She was a daughter of John Spires and his wife Phebe McCumber.
1850 Gallia Co, OH Census, Morgan Township, p. 403b, #271-284
1860 Gallia Co, OH Census,Morgan Township, p. 144, #1064-996
1870 Gallia Co, OH Census, Morgan Township, p. 442, #32-32
1880 Gallia Co, OH Census, Springfield Township, #53-54
1900 Gallia Co, OH Census, Morgan Township, Vol 56, ED 36, Sheet 9, Line 39, #184-184
American Civil War Soldiers: Alvin Russell enlisted as a Private on 04 September 1864 at the age of 37
Enlisted in Company I, 173rd Infantry Regiment Ohio on 16 September 1864
Mustered out Company I, 173rd Infantry Regiment Ohio on 26 June 1865 in Nashville, TN
Certified Copy of Death Record
The State of Ohio, Gallia County Court of Common Pleas, Probate Division
Date of Record: July 24 A. D. 1903
No. 273
Name in full: Alvin Russell
Date of Death: Year 1903, Month July, Day 24th
Condition: Married
Age: 75
Place of Death: Morgan Township
Place of Birth: Morgan Township
Occupation: Farmer
Parents: Unknown
Color: White
Cause of Death: Consumption
Last Place of Residence: Morgan Township