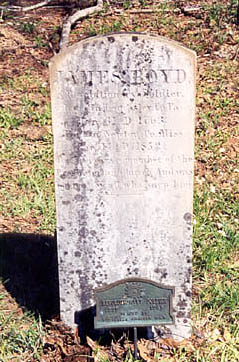 James Boyd
Revolutionary Soldier
born in Lancaster Co, PA
Jan. 31 AD 1763
Died in Newton Co, Miss.
Jan. 14 AD 1852
For 50 years a member of the Presbyterian Church. And was loved by all who knew him.
(Tombstone is also marked by a DAR Revolutionary Solder marker placed by the Bobashela Chapter NSDAR)
1850 Newton Co, MS Census, #621-621, p. 189
Residence in the Revolution - Washington Co, NC, Service: He volunteered in Col. John Sevier's NC Regiment in the Spring on 1781. He served along the frontier of SC and GA and rendezvoused by the French Broad River in 1782.
Carlinus Boyd
Born in Blunt Co, East Tenn. Jan. 19, 1806, Died Jan. 23, 1876
1850 Newton Co, MS Census, p. 189 #492-492
1870 Newton Co, MS Census, p. 493, Township 8, Range 10, #85-85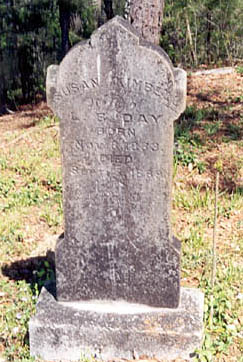 Susan Kimball Boyd Day
Wife of L. B. Day
Born Nov. 8, 1833
died Sept. 5, 1889
Susan Kimball was the daughter of David Kimball and his wife Susanna Anderson. She married (1) Carlinus Boyd (2) Lemuel B. Day on November 29, 1876 in Newton Co, MS.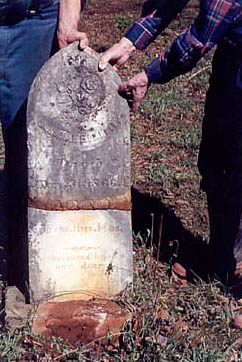 Susanna Anderson Kimball
Died Dec. 31, 1866
58 yrs. 11 ms. 14 ds
Susanna Anderson, daughter of James Anderson, married David Kimball on June 23, 1827 in Greene Co, GA.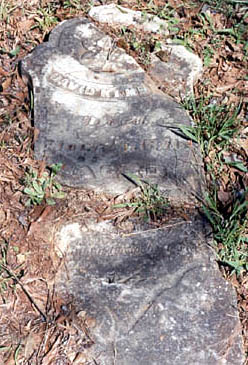 David Kimball
Died July 25, 1871
Aged 70 ys, 2 ms, 17 ds
1850 Newton Co, MS Census #487-487
1860 Newton Co, MS Census, Union PO #591-607
1870 Newton Co, MS Census, Newton Post Office, p. 251, Township 8 Range 13, #92-92
Newton Weekly Ledger, Thursday, June 18, 1874
Chancery Notice: David Kimbel, dec'd. Andrew Gordon, Adm'r. To: Mary & Andrew Gordon, Susan & C. Boyd, Elizabeth & Rankin Amis, Jane, Elmira K, D. S., Martha, Thomas, John, Andrew, Wm & Louisa Kimbel; Arch, father & guardian of Mary Curry of Scott Co., and Nancy Ann & William Walton of St. Augustine, Texas.