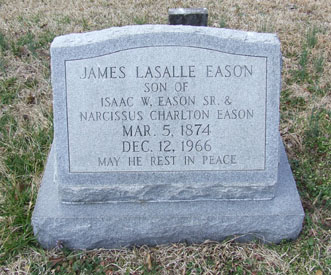 James Lasalle Eason
Son of
Isaac W. Eason Sr. &
Narcissus Charlton Eason
Mar. 5, 1874
Dec. 12, 1966
May He Rest In Peace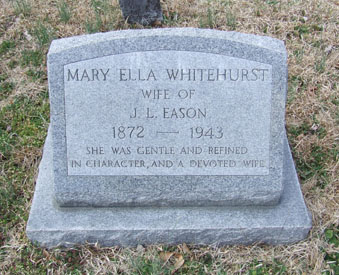 Mary Ella Whitehurst
Wife of J. L. Eason
1872 - 1943
She Was Gentle And Refined
In Character And A Devoted Wife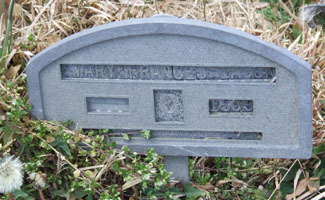 Mary Frances Eason
- 1989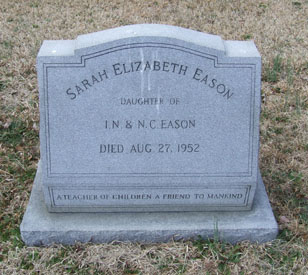 Sarah Elizabeth Eason
Daughter of
I.N. & N.C. Eason
Died Aug. 27, 1952
A Teacher of Children
A Friend to Mankind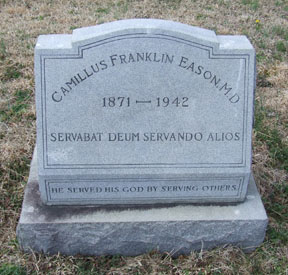 Camillus Franklin Eason M.D.
1871 - 1942
Servabat Deum Servando Alios
He Served His God By Serving Others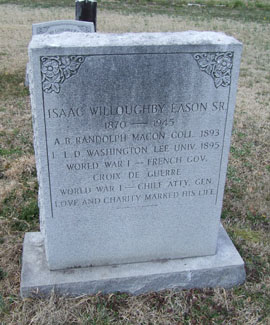 Isaac Willoughby Eason Sr.
1870 - 1945
A B Randolph Macon Coll 1893
L L D Washington Lee Univ 1895
World War I - French Gov.
Croix De Guerre
World War I - Chief Atty Gen
Love and Charity Marked His Life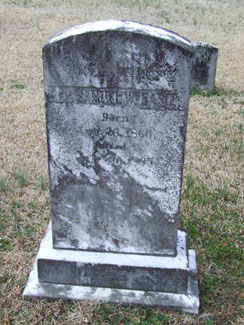 Rev. Samuel W. Eason
Born
Jan or Jun 26, 1860
Died
July 30, 1895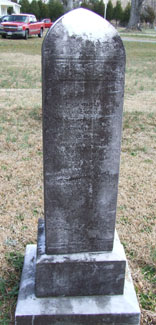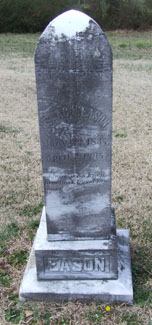 Isaac N. Eason
Jany 22, 1837
April 2, 1905
Those Who Knew Him Best Loved Him
Great Grandson of Jesse Eason Sr.
and Grandson of Jesse Eason Jr.
Commissioned Officer in the War of the Revolution 1776 - 8
and himself a Confederate Soldier in the War of 1861 - 1865
Isaac N. Newton was a son of North Carolina native Uriah Eason and his wife Mary. The family was enumerated on the 1850 Norfolk Co, VA Census in St. Bride's Parish.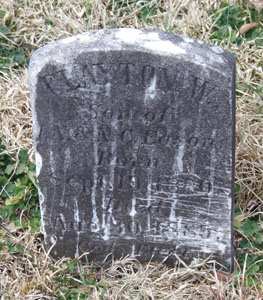 Clayton W.
Son of
I N & N C Eason
Born Sept 19, 1880
Died Aug 30, 1885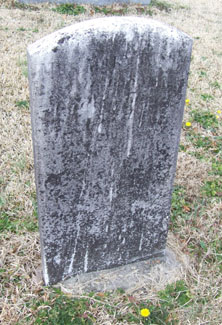 Mrs. M. F. Eason
This tombstone is extremely hard to read. Could this be Mary, mother of Isaac N. & George Washington Eason? Or is it Mary F., daughter of Isaac N. & Narcissus Eason?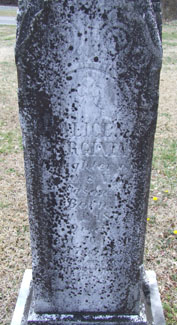 Alice Virginia
Daughter of
G W & V A Eason
Born Nov 1, 1872
Died Sept 26, 1880
Aged 7 Yrs 10 months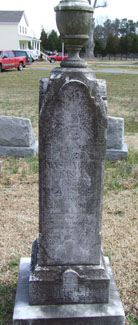 George Washington Eason
Born May 12, 1834
Died Jan 5, 1914
George Washington Eason was a son of Uriah Eason and his wife Mary. He was a brother of Isaac N. Eason.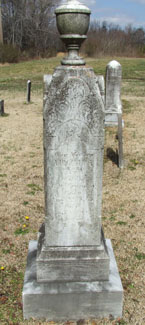 Our Mother
Virginia A. Eason
Wife of
G W Eason Sr.
Born Aug 22, 1845
Died Sept 8, 1928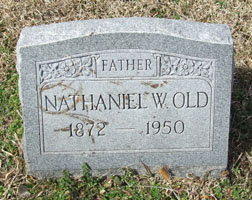 Father
Nathaniel W. Old
1872 - 1950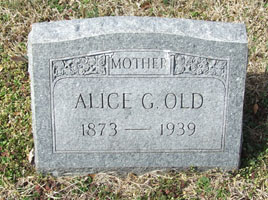 Mother
Alice G. Old
1873 - 1939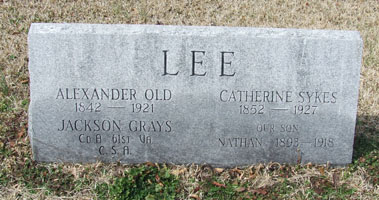 Alexander Old Lee
1842 - 1921
Jackson Grays
Co. A 61st VA CSA
Catherine Sykes Lee
1852 - 1927
Our Son Nathan
1893 - 1918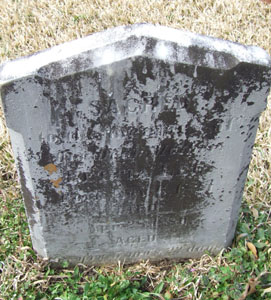 Sacred to the Memory
of Our ? Mother
Letita Lee
Born Nov 6, 1821
Died Apr 28, 1880
Aged 58 yrs 5 mo's 22 days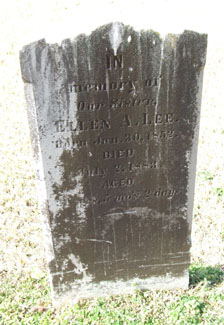 In Memory of Our Sister
Ellen A. Lee
Born Jan 30, 1852
Died July 2, 1883
Aged 31 yrs 5 mo's 2 days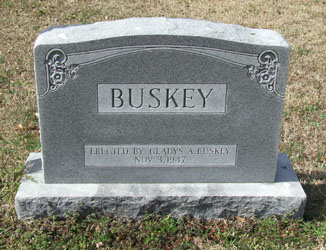 Buskey
Erected by Gladys A. Buskey
Nov 3, 1947