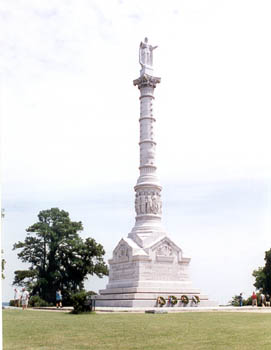 On September 18, 1781 the battle began which would prove to be the last major conflict in the Revolutionary War. General George Washington and his French allies surrounded Lord Cornwallis' forces, which consisted of British Regulars, Tories, and German Mercenaries. After 9 days of bombardment Lord Cornwallis requested a cease fire and on October 19, 1781 surrendered his troops as prisoners of war.
October 19th remains a day of festivities for Yorktown, VA. The celebration of the surrender of the British at Yorktown is entitled Yorktown Days and includes our French Allies, who send representatives each year. One is taken back in time standing on an ancient street corner watching a parade in which the Yorktown Crier leads celebrants which include Fife & Drum Corps and Sons of the American Revolution members marching in Revolutionary garb. A wreath laying at the grave of Revolutionary hero Thomas Nelson, coffee at the DAR owned Custom House, and dinner on the grounds served by the ladies of Grace Church precede a formal ceremony at the memorial.
Patriotic music accompanies the parade of flags which begins the program. As the ceremony unfolds, the boom of a cannon fired by re-enactors on the battlefield causes one to believe that he has been transported back in time. General George Washington is once again firing on the British with his French allies in support. The fife and drum corps are present to encourage our troops to victory. The ceremony ends, and we are again in the 21st century. But for a moment we were there.