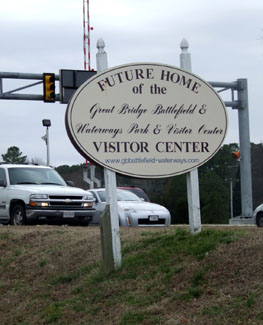 Battle of Great Bridge
The Revolutionary War

Scores of automobiles pass the battlefield on their commute from one of Virginia's largest bedroom communities to their place of employ. Rarely does the traveler offer more than a bored glance at the empty field occupying the northwest corner of the intersection as they wait for the drawbridge on Battlefield Boulevard to rise and allow their trapped vehicle to continue its journey home. Little do they realize that on December 9, 1775 Virginia patriots fought British troops in a battle for the control of the water routes leading to the Port of Norfolk. That early Revolutionary War skirmish, won by the Patriots, began Virginia's step towards independence as the victors marched on, first to Kempsville; then to Norfolk..
For hundreds of years the field lay ignored, excepting the attention of a few historians and its namesake: the Great Bridge DAR Chapter. Today the thriving City of Chesapeake, in whose borders the battlefield lies, plans to restore the field to the glory it deserves. The landscaped battlefield and welcome center are but a blueprint on the city's architectural plan. But the park's beginning has been heralded with the erection of a 24 foot tall granite statue donated by the Virginia Daughters of the American Revolution. The statue was the State Regent's Project of the late Mary Jane Davis, a member of the Great Bridge DAR Chapter. The statue was dedicated in an impressive ceremony on March 19, 2006.
Battlefield Boulevard travelers may now gaze on the impressive obelisk and envision the field on that long ago winter day when our future course was set by men and women of vision and foresight. The new Great Bridge Battlefield Park will celebrate their courage.
As a team of historians and archaeologists prepare for the park, exciting discoveries have been made. The site of Lord Dunmore's "Fort Murray" has been found in the swampy marsh adjacent to Battlefield Boulevard. 17th & 18th century artifacts and causeway remnants point directly to the site from which the British marched to fight Patriot troops in the battle that decided control of Hampton Roads.
Not just Virginians, but all who cherish the memory of our Revolutionary War heritage, anxiously await the completion of the battlefield park, visitors center, museum, and archeological study. A ground breaking ceremony will be held at 2 p.m. on Friday, May 29, 2009.