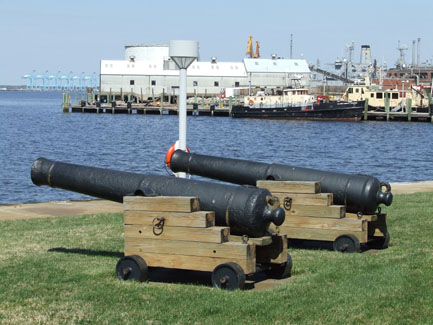 Fort Norfolk
War of 1812

It sits tucked away behind a US Corps of Engineers entrance gate. The location is a four acre plot of land facing the historic harbor near the City of Norfolk's vibrant downtown. The address is 801 Front Street.
It began in 1794 with an authorization by then President George Washington to build a series of 19 forts to protect America's harbors. After the attack of the USS Chesapeake by the HMS Leopard near Norfolk on June 22, 1807, the fort was upgraded in anticipation of war with England. Completion was about 1810.
The fort protected Norfolk's harbor and hosted the frigate Constellation during the War of 1812. The Battle of Craney Island was fought in its shadows. It also supplied the CSS Virginia (Merrimack) during her nearby battle with the USS Monitor.
Today Fort Norfolk sits beautifully maintained but largely forgotten by all save history buffs and reenactors. The former Carpenter's Shop & Storeroom serves as a Headquarters and Welcome Center for the Norfolk Historical Society. On the sunny March 31, 2007 day of our visit, those who honor her memory felt a part of its history.